Dark Ambient Radio Vol. 2 Release
Geschrieben von DarkAmbient am November 17 2009 - 13:58:49
---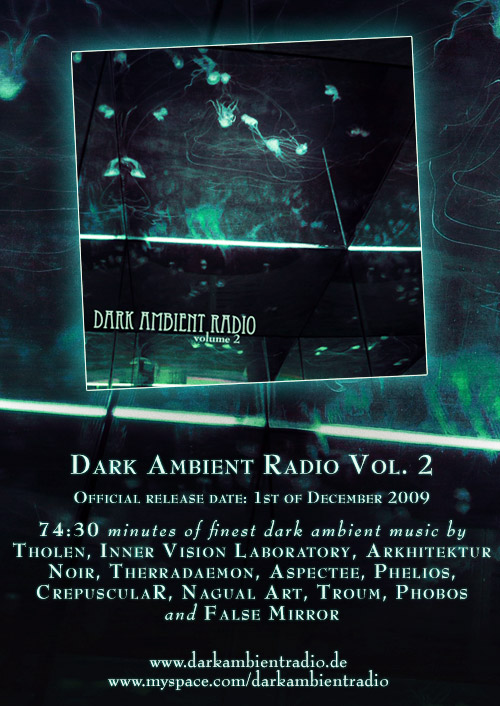 Thanks for all who supported us so far by pre-ordering the CD! Klick 'Mehr Lesen' for general ordering information.



Dank an alle, die und bis jetzt mit einer Vorbestellung unterstützt haben! Klicke auf 'Mehr Lesen' für allgemeine Bestellinformationen.

---
Erweiterte News
---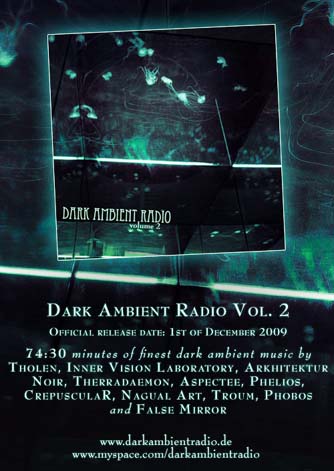 The Dark Ambient Radio Vol. 2 Compilation will be available in December for around 12 € (+ shipping, of course) through most of the well known dark ambient mailorders (see Vol.1 box on the left). We will put samples on our myspace page shortly, so you can convince yourself that we managed to compile an outstanding collection of dark ambient tracks. Though we would encourage you to support small independent mailorders, the CD will also be available on Amazon.com in Janurary (e.g. in case you need to get rid of an Amazon voucher you got as Christmas present).



Die Dark Ambient Radio Vol. 2 Compilation wird für etwa 12 € (+ Versand natürlich) ab Dezember über die meisten bekannteren Dark Ambient Mailorder verfügbar sein (siehe Vol.1 Kasten links). Wir werden in Kürze Hörproben auf unsere myspace Seite stellen, so dass Du Dich selbst davon überzeugen kannst, dass es uns gelungen ist, eine überdurchnittliche Sammlung von Dark Ambient Stücken zusammen zu stellen. Obwohl wir empfehlen, die kleineren Mailorders zu unterstützenn, wird die CD auch über Amazon Deutschland verfügbar sein (z.B. für den Fall, dass Du einen Amazon-Gutschein loswerden musst, den Du zu Weihnachten geschenkt bekommen hast).


---

Tracklist Dark Ambient Radio Vol. 2


| | |
| --- | --- |
| Number of Tracks: | 11 |
| Disc Duration: | 74:31 |
| CD-Text: | enabled |
| Copies: | 500 |
| | | |
| --- | --- | --- |
| Tholen | Nightly spirits rise and shine | 7:01 |
| Inner Vision Laboratory | Ashes of Perfection | 6:45 |
| Arkhitektur Noir | Aula Sancta | 5:00 |
| THERRADAEMON | Et Arr Av Lys | 8:37 |
| Aspectee | Poudure | 6:16 |
| Phelios | Cloud Sector Alpha | 5:08 |
| CrepusculaR | Inconceivable Unknown | 6:52 |
| Nagual Art | Mattoon | 5:54 |
| Troum | Pina | 9:26 |
| Phobos | Succubi | 6:23 |
| False Mirror | Invisible Fear | 7:02 |